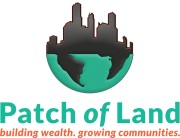 Famous Route 66 Hotel Investment Opportunity Expands Patch of Land's Nationwide Reach and Marks Another Milestone with a $3.2 Million loan in the company's 22nd State
LOS ANGELES, CA , August 5, 2015 (Newswire.com) - Patch of Land, a crowdfunding solution for real estate financing that brings together borrowers and lenders through a simple online interface, today announced it's largest loan offering to date: The Ramada Hotel located on the historic Main Street of America, Route 66. This investment offering expands Patch of Land's nationwide reach into Arizona. The investment offering is listed at $3.2M with an 18-month loan term at 10 percent APR and 47% LTV.
"We are thrilled to offer an investment opportunity along the historic Route 66, since it is a true American icon," said Jason Fritton, co-founder and CEO of Patch of Land. "We make investing simple, easy, and transparent for anyone who is interested in diversifying their portfolio. With the Ramada Hotel being our biggest loan yet, Patch of Land continues to grow as an originator of diversified loans that help borrowers and investors make their goals a reality."
Patch of Land is helping thousands of investors from across the country invest in residential and commercial properties that span 22 states. With its core focus on single-family residential and multi-family short-term lending, Patch of Land will continue to push into other commercial loan types such as office, retail and mixed-use, along with the addition of hotels, such as The Ramada Hotel, a multi-tenant retail property.
Since its inception in 2013, Patch of Land has seen massive growth. In less than two years, the company has funded over 130 projects, prefunding and then crowdfunding more than $30M with an average blended rate of return of 12.22%.
Patch of Land is the only marketplace-lending platform to-date that displays investment offerings that are directly secured by underlying property and that works with a trustee.
About Patch of Land
Patch of Land (POL) is a crowdfunding solution for real estate financing that brings together borrowers and lenders through a simple online interface. Patch of Land's goal is to solve the problem of inefficient, fragmented, and opaque real estate lending by using technology, data-driven processes, and expert human touch to create transparency and efficiently underwrite projects. Patch of Land fills the void in between slow, over-regulated banks, and hard money lenders that cannot supply timely or consistent sources of capital. The transparent, simple and efficient solution allows accredited investors to easily diversify their funds while giving borrowers reliable access to funds for rehabilitating properties in need. For more information about Patch of Land please visit PatchofLand.com.
Share: